PPE KIT- Personal protective equipment- Non laminated-70GSM-SITRA Certified
₹ 1500 – ₹ 5000
PPE KIT- SITRA CERTIFIED
Personal Protective Equipment's (PPEs) are protective gears designed to safeguard the health of workers by minimizing the exposure to a biological agent.
Components of PPE are goggles, face-shield, mask, gloves, coverall/gowns head cover and shoe cover.
Coveall with shoe cover Suite- 1 set ( Non-Woven, 70 GSM Sitra certified)
3 Ply Face Mask (Polypropylene, Spun Bound, Non-Woven, Spun Bound, with melt blown filter) – 1 Nos
Examination Gloves (Nitrile – Powder Free) – 1 Pair
Full Body Coverall (Polypropylene, Non-Woven, 70 GSM ) – 1 Nos
Shoe Cover (Polypropylene, Non-Woven, 70 GSM) – 1 Pair
1 Biohazard disposal bag
Gloves
Softhands Latex examination Glove. These gloves provide excellent barrier protection for both healthcare worker and patient.
Face Sheild
Recyclable PET
Comprehensive protection
Comfort Stretch band
Anti–fog
Completely transparent screen clear view
One size fits all
Ultra –light
No pressure on the head
Product Description
PPE KIT- SITRA CERTIFIED
Personal protective equipment (PPE) Nonlaminated- 70 gsm Sitra certified kit includes Coverall suite, LATEX Gloves,3 PLY masks, face shields, shoe covers and head cap. Wearing PPE in the hospital and medical clinics/offices helps prevent the spread of germs and protects both patients and health care workers from infection.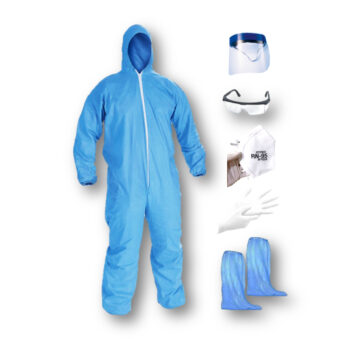 Free Shipping PAN INDIA.. Call/whatsapp: 7200705006
Email: sale@lunextcare.com
locate us: https://g.page/LUNEXT?share