SHOWER COMMODE WHEELCHAIR Foldable-model: FS-WC Best price NO1
SHOWER COMMODE WHEELCHAIR Foldable Chennai/Banglore/Kochi
Model: FS-WC
Key features:
1.One step folding or unfolding, easy to carry as a luggage in bath room.
2. Construction: Aluminium, Very light weight, Just 9.4kg.
3.Very soft EVA pad for Backrest and gripped seat cushion for water shower
4. Frame material: aluminum alloy.
Shower wheelchair foldable features:
Aluminium Lightweight and Foldable Design: Shower wheelchair foldable are designed to be lightweight and easily foldable for convenience and easy transportation. This makes them perfect for individuals who require a wheelchair for occasional use and need to transport it frequently.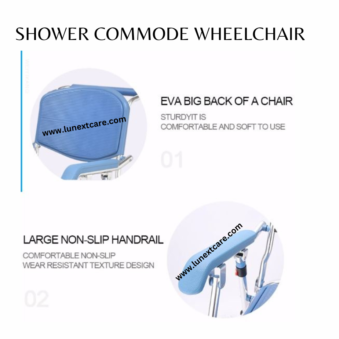 EVA WIDE big backrest with detachable pattern design
Armrests: EVA most comfortable armrest.
Rear Wheels:  wheelchairs have larger rear wheels to provide better durable performance. The larger wheels also provide better stability and easier maneuverability. Can be remove screw type if needed during travel..
Loop-Style Manual foot Brake: shower wheelchairs foot operated front wheel brake that can be easily locked with gentle push during patient loading the chair..
Footrests and Leg-rests:  Wheelchairs have supportive foldable footrests and detachable screw type.
wheelchair comes with EVA seat rubber suitable shower usage & durable.
Weight Capacity: Foldable wheelchairs are designed to be durable and can support up to 100 kg of weight.
Locate us: https://g.page/LUNEXT?share 
Follow us in Facebook : https://www.facebook.com/lunexthealth
Product Description
SHOWER COMMODE WHEELCHAIR Foldable Chennai/Banglore/Kochi model: FS-WC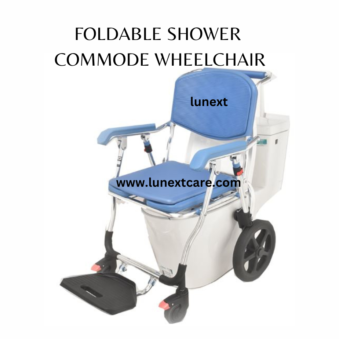 SHOWER COMMODE WHEELCHAIR
Polyethylene Shower Chair for Elderly

SIT, SHOWER & RELAX– Shower chair allows individuals i.e. seniors/elderly or anyone with limited mobility or injury to sit during shower. Create a relaxing shower experience; allows fall risk individuals to shower independently.

DURABLE & SECURE – NEW model shower chair is now made with heavy-duty anodized aluminum frame with a weight capacity of 100kg.
Aluminum frame is lightweight, durable and sturdy. Its unique angled legs with non-skid rubber tips allow users' weight to be distributed over a larger area making the shower chair ultra-safe and stable.
The surface of aluminum alloy is treated with oxidized fog silver, which is waterproof and rust free. It can be used as a bathing chair and a wheelchair.
Optional seat overlays & cushions, back cushion, armrest pads, removable pan and holder available
VERSATILE & EASY TO USE- Removable back support and height adjustable legs allow users to customize chair based on specific preferences. Tool free assembly. Easy to assemble and use.
LIGHTWEIGHT & PORTABLE – Comes with fixed side arm rest and attender push rear bar with sponge for easy handling
SHOWER COMMODE wheelchair foldable storage
Product demo video link: https://youtu.be/paTuiCr4-Ug
Marketed & serviced by:
LUNEXT HEALTH CARE, Chennai
Call: 7200705006
Email: sale@lunextcare.com
locate us: https://g.page/LUNEXT?share
Follow us on our FB page: https://www.facebook.com/lunexthealth