STAINLESS STEEL WHEELCHAIR Chennai- Mag wheels-Best price No1
STAINLESS STEEL WHEELCHAIR Chennai with wheels
STAINLESS STEEL WHEELCHAIR  Specification:
 Total weight of Wheel Chair (Kg):20KG (Approx)
Foot rest Material: steel
Density of Cushion material on armrest, seat and Backrest (Kg/m3)-32
Leg Guard Width (mm)-190
Back rest with Cushion-Yes
Hardness of Axle (HRC)-30
Hand rim Tube thickness (mm)-15
Front castor Dia (mm)-165
Cushion on Seat With Overall Width in unfolded condition of wheel chair (mm)-660
Leg guard type-NA
Type of Back rest-Foldable
Overall Length (mm)-980
Type of Wheel Hub-bearing
Hand Rim Material-Plastic
Foldable-Yes
Overall Width in folded condition of the wheelchair (mm)-300
Types of Wheel Chairs- fabricated stainless steel
Material of Handle-PVC
STAINLESS STEEL WHEELCHAIR with Mag wheels are made of  reinforced plastic materials and usually have less spokes.
Rear wheels of manual wheelchairs are normally equipped with quick release axles for easy handling during transportation.
Mag wheels are usually fixed mounted on the chair with screwed axles & easy maintenance..
Locate us: https://g.page/LUNEXT?share 
Follow us in Facebook : https://www.facebook.com/lunexthealth
Product Description
STAINLESS STEEL WHEELCHAIR Chennai – Non Foldable wheelchair: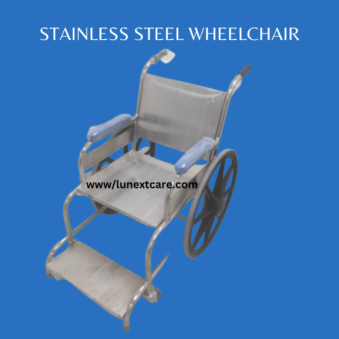 STAINLESS STEEL WHEELCHAIR Chennai – Non Foldable wheelchair:
Fabricated stainless steel wheelchair self color non rustic
Leadtime for shipping: 4 days
Flat Seat with rigid construction
Dual brakes on either side for braking
Front wheel 360 degree rotatable wheels
Country of Origin: Made in india
Marketed & serviced by:
LUNEXT HEALTH CARE, Chennai
Call: 7200705006
Email: sale@lunextcare.com
locate us: https://g.page/LUNEXT?share
Follow us on our FB page: https://www.facebook.com/lunexthealth