Wheelchair for rent Chennai-Weekly rental \ Monthly rental- Best price NO1 Chennai
₹ 600 – ₹ 750
Wheelchair for rent Chennai- Wheelchair for rent near me-FOLDABLE WHEELCHAIR with mag wheels
Specification: BLACK POWER COATED
 Total weight of Wheel Chair (Kg):19KG (Approx)
Max weight capacity: 100kg
Foot rest Material: Plastic
Type of Back rest-Foldable
Key Considerations When hiring wheelchair for rent:
Ensure that the seat width size is correct
Make sure you have details of max weight capacity inputs
Plan your itinerary around wheel-chair friendly attractions
Consider the vehicle that you'll use on vacation and whether a wheelchair can fit
Determine whether the wheelchair has a rear or side entry
Product demo video link: https://youtu.be/ZQFxRCm4fMQ
wheelchair for rent chennaiLocate us: https://g.page/LUNEXT?share 
Follow us in Facebook : https://www.facebook.com/lunexthealth
Product Description
Wheelchair for rent Chennai- Wheelchair for rent near me-FOLDABLE WHEELCHAIR with mag wheels
Wheelchair rentals are a convenient and affordable solution for anyone using a wheelchair or someone who has trouble getting around for a long period of time. If you're vacationing somewhere that requires a lot of moving around, then they can make travel a lot easier!
WEEKLY PLAN/MONTHLY PLAN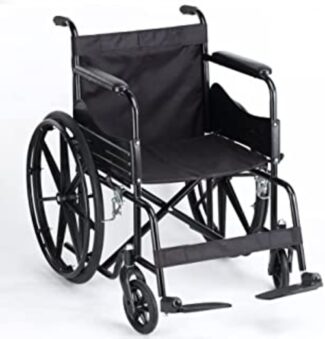 Wheelchair for rent Chennai Benefits:
Temporary Use and Changing NeedsOne significant advantage of renting a wheelchair is its suitability for temporary or short-term use. In situations where mobility assistance is only required temporarily, such as post-surgery recovery or injury rehabilitation, renting a wheelchair allows for flexibility.
Travel and VacationTraveling, whether for leisure or business, can pose unique challenges for individuals with mobility limitations. Renting a wheelchair specifically for travel purposes offers a host of benefits. Firstly, it eliminates the hassle and inconvenience of transporting a personal wheelchair.
Maintenance and RepairsWheelchair maintenance and repairs can be costly and time-consuming. When you rent a wheelchair, the responsibility for maintenance and repairs lies with the rental service provider.
Cost SavingsFinancial considerations play a significant role in the decision-making process for acquiring a wheelchair. While purchasing a wheelchair may seem like a one-time investment, it often involves significant upfront costs.
Product demo video link: https://youtube.com/shorts/ya5O5f5Cd24?feature=share
Country of Origin: INDIA
 Service Provided by:
LUNEXT HEALTH CARE, Chennai
Call: 7200705006
Email: sale@lunextcare.com
locate us: https://g.page/LUNEXT?share
Follow us on our FB page: https://www.facebook.com/lunexthealth