3 IN 1- SHOWER COMMODE WHEELCHAIR Foldable Chennai/Banglore/Kochi model: FS-BC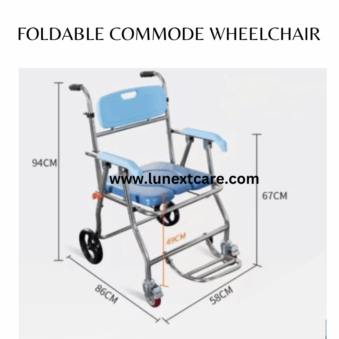 3 IN 1- SHOWER COMMODE WHEELCHAIR  foldable
Aluminium Lightweight and Foldable Design: Shower wheelchair foldable are designed to be lightweight and easily foldable for convenience and easy transportation. This makes them perfect for individuals who require a wheelchair for occasional use and need to transport it frequently.
WIDE big backrest with detachable pattern design
Armrests: EVA most comfortable armrest.
Rear Wheels:  Compact rear wheels ensure lesser with 62cm wheel to wheel dimension
Loop-Style Manual foot Brake: shower wheelchairs foot operated front wheel brake that can be easily locked with gentle push during patient loading the chair..
Wheelchairs have supportive foldable footrests
wheelchair comes with commode
Weight Capacity: Foldable wheelchairs are designed to be durable and can support up to 110 kg of weight.
Marketed & serviced by:
LUNEXT HEALTH CARE, Chennai
Call: 7200705006
Email: sale@lunextcare.com
locate us: https://g.page/LUNEXT?share
Follow us on our FB page: https://www.facebook.com/lunexthealth