Biomedical Waste bins chennai- color coded hospital bins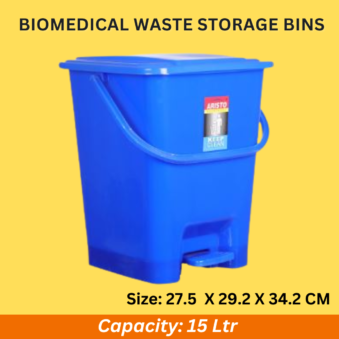 Bio Medical Waste Bin
Color Coded Hospital Bins- 5 set
Features:
Strong & long life body
Foot Paddle for touch-less deposit of waste
Anti-Rust foot paddle connector for long life
Heavy duty wheels for easy movement
Moulded-in Handles
Durable Hinge Design
Color coded for waste segregation & Capacity 15 Ltrs.
The colours can vary from red/blue/YELLOW/green/black. The list can still go on and on. Some examples of colour codes are listed below:
BLUE – Paper Recycling
GREEN – Organic Recycling
RED – Landfill Waste
YELLOW – Mixed Recycling
BLACK– Soft Plastic Recycling
1. Blue Bins
Papers which are to be recycled are put in this bin. The papers include Office Paper Only, Clean Cardboard, etc.
2. Green Bins
Here, organic materials like food waste, prunings, fruit and vegetables, flowers, plate scrapings including meat, fish and leftovers and coffee grounds are disposed of so they can be taken to a composting site and turned into biogas for energy and agricultural use.
3. Red Bins
In the red bin, drinking glassware, broken crockery, cling wrap, plastic bags, packing straps, sticky tape, glazed wrappers and polystyrene are deposited so they can be taken to the landfill for disposal.
4. Yellow Bins
In the yellow bin, Glass Bottles, Clean Cardboard, Newspaper, Plastic, Office Paper, Aluminium Cans, Milk & Juice Cartons and Disposable Coffee Cup – LIDS ONLY are deposited so they can go for mix recycling.
5. Black Bins
In the black bin, Bread bags (not with ties), Pasta & Rice Bags, Cling Wrap, Plastic Bags, Biscuit Packets, Frozen Food Bags, Green Recycling Bags, Confectionery Bags, Bubble Wrap are deposited so they can go for soft plastics recycling.
It is good to note that the colour codes for waste disposal for the disposal of biomedical waste are not the same as colour codes for waste disposal for the waste generated from other sources.
Marketed & serviced by:
LUNEXT HEALTH CARE, Chennai
Call: 7200705006
Email: sale@lunextcare.com
locate us: https://g.page/LUNEXT?share
Follow us on our FB page: https://www.facebook.com/lunexthealth