Blood donor chair chennai with IV pole- Hospital Infusion chair multipurpose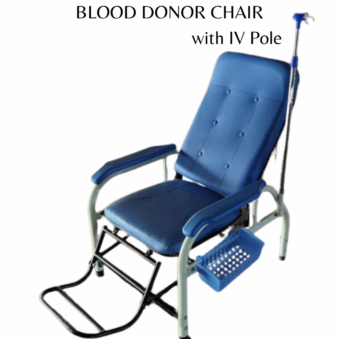 Blood donor chair with a recliner is a specialized piece of furniture commonly used in healthcare settings for patients receiving infusion therapy. It combines the features of a reclining chair and an infusion system to provide comfort and convenience during the treatment process.
Hospital Infusion chair-Personalised Patient Comfort
Infusion treatments can be lengthy, often requiring patients to sit for extended periods. A well-designed chair with ergonomic features can alleviate discomfort, reduce pressure points, and promote proper posture.
This, in turn, enhances patient compliance, as they are more likely to tolerate the treatment duration without excessive discomfort or restlessness.
For extended infusion therapy sessions, prioritise patient comfort by selecting healthcare seating options with adjustable positions.
Look for chairs that offer customisable settings for the backrest, leg rest, and overall height.
These features allow patients to find their preferred posture, relieving pressure points and promoting relaxation throughout the treatment.
Product video: https://youtube.com/shorts/rmJdWm2JC4A?feature=share
Marketed & serviced by:
LUNEXT HEALTH CARE, Chennai
Call: 7200705006
Email: sale@lunextcare.com
locate us: https://g.page/LUNEXT?share
Follow us on our FB page: https://www.facebook.com/lunexthealth