DWEEJ N95 HEADLOOP MASK- N95 mask India no1 Best price
₹ 275 – ₹ 1250
DWEEJ N95 HEADLOOP MASK: India best price
Approvals:
ISO 9001:2015 & CE Certified Approvals
SITRA & ACCUPREC Certified Approvals
Quality is equivalent to EN 14683, ASTMF2100
Approximate Weight Of Products – 5.90gm
DWEEJ N95 masks  are designed to block over 99.6 % of test particles that are less than or equal to 0.3 microns. They fit closely to the face which is what allows the mask to filter as mech air intake as possible.
"The purpose of a mask is not only that it reduces the possibility of the virus getting inside the respiratory tract but also prevents the aerosols from spreading in the surroundings.
*Single Mask comes In single sterile packing
Product Description
DWEEJ N95 HEADLOOP MASK:
1st layer – MEDICAL GRADE SPUN BOND 25 GSM
2nd layer – MEDICAL GRADE SPUN BOND 25 GSM
3rd layer – MEDICAL GRADE SMS FABRIC 25 GSM
4th layer – MELT-BLOWN FABRIC 25 GSM
5th layer – MEDICAL GRADE SPUN BOND 25 GSM
Product details: https://youtu.be/1FsTGdEdZ-w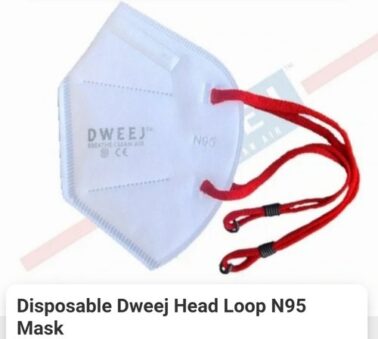 Free Shipping PAN INDIA.. Call/whatsapp: 7200705006
Email: sale@lunextcare.com
Manufactured by: DWEEJ
locate us: https://g.page/LUNEXT?share
– Adjustable Nose Clip
– Ulrasonically Welded Adjustable HEADLOOP