GLOVEON COATS NITRILE GLOVES Chennai- LUNEXT HEALTH CARE
NITRILE POWDER FREE GLOVES: BLUE CALL: 7200705006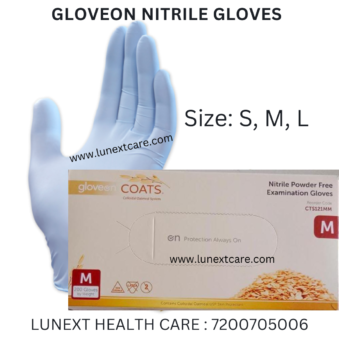 Protect, Soothe & Moisturise Your Precious Hands
Product Details:
 > Fingertip textured
> Powder Free
> Not made with natural rubber latex
> Chemotherapy drugs tested
> Lab chemical tested
> Ambidextrous
> Standard Cuff
> Dark blue colour
| | |
| --- | --- |
| Usage/Application | Hospital, Clinic |
| Material | Nitrile |
| Size | 7 inches |
| Brand | Gloveon |
| Packaging Size | 200 Piece |
| Pattern | Plain |
| Features | Disposable |
| Country of Origin | Imported |
GLOVEON COATS NITRILE GLOVES Chennai– is a synthetic rubber material that offers chemical and abrasion resistance and is a very good general-duty material for gloves.
Thin, disposable, nitrile gloves are the most common gloves used when handling chemicals in laboratories; however, it is important to remember that thin nitrile rubber provides only limited chemical protection.
These gloves are intended to be used only as a physical barrier against brief contact with chemicals, and they need to be removed and discarded immediately after they become contaminated.
Glove materials are evaluated on three criteria when exposed to chemicals:
Breakthrough time:  This is how long it takes to detect a substance inside the glove when the outside is exposed to a chemical.  A glove that holds ups for greater than eight hours is considered excellent.
Degradation: This refers to the physical changes in the material such as swelling, cracking, softening or shrinking, which occur when it comes in contact with a chemical.  A glove can exhibit chemical breakthrough even if it doesn't show signs of degradation.
Permeation rate:  This is the rate at which a substance passes through a glove material once breakthrough takes place.  This rate includes absorption on the surface, diffusion through the material, and desorption on the inside surface.
It is important to remember that laboratory testing data does not take into account the effects of hand movement and body temperature.  The actual protection will be less for a glove that is being worn and stressed during use.
Product video: https://youtu.be/h6g11lVcILY
Free Shipping PAN INDIA.. Call/whatsapp: 7200705006
Email: sale@lunextcare.com
locate us: https://g.page/LUNEXT?share
Follow us on our FB page: https://www.facebook.com/lunexthealth