KF94 MASK-Protective Face Mask-India No1 best price
₹ 275 – ₹ 1100
KF94 MASK- Protective facemask
Anti Pollution, Reusable, Washable Face Mask CE and ISO Certified
Mask for Men and Women, High Filtration, Anti Pollution 4 Layer Mask, White – Pack of 10/25/50
KF94 masks are designed to block over 95% of test particles that are less than or equal to 0.3 microns. They fit closely to the face which is what allows the mask to filter as mech air intake as possible.
HEADBAND FOR ALL-DAY COMFORT: VORA VENTURES KF94 mask comes with headbands that provide a very snug fit and also zero pain to the ears. One can easily wear it for the whole day with ease. this face mask is not easy to drop, no need to adjust it when you work. At times you won't even realize that you have the mask on, it is that comfortable.

3D DESIGN REDUCES LIPS CONTACT: The 3D shape of VORA VENTURES KF94 cup dust mask is designed according to the human face shape to ensure the tightness and distance between the lips and mask to fit the human face, to increase the breathing volume when using the face mask. Our breathable face mask can greatly improve the permeability, and make wearing and exhaling more comfortable.

ZERO FOGGING WHEN WEARING GLASSES: The Vora Ventures 4 layer mask is designed in such a way with headbands and ultra mouldable 100% aluminum nose strip provide a very snug fit that no air passes from the top and fog the glasses.

4-LAYER FILTRATION DESIGN: The KF94 mask is made of 2 layers of non-woven fabric, 2 layers of melt-blown fabric. Non-woven fabric is skin-friendly, non-irritant, non-toxic; melt-blown fabric features high-efficiency infiltration; super soft hydrophilic non-woven helps absorb the moisture from the breath offers more protection and comfort to users. It also filters 99.9% PM 2.5 pollution particles which protect from everyday dust and pollution also.

Tested Filter Efficiency≥95%:The filter efficiency of the Fender Premium KF94 face mask is tested by highly reputed DRDO and BIS approved Labs which proves it is over 95%. It's also known as a Willow-shaped mask, a Korean mask. A lightweight foldable design makes these face masks easy to fold into your bag, easy to incorporate, and save space. They can be applied in home, office, school, park, playground, indoors, outdoors, and more congested places.
Approvals:
ISO 9001:2015 & CE Certified Approvals
SITRA & ACCUPREC Certified Approvals
Free Shipping PAN INDIA.. Call/whatsapp: 7200705006
Email: sale@lunextcare.com
locate us: https://g.page/LUNEXT?share
Social media link: https://youtu.be/KQ8Icv0Fjhw
Masks can prevent the transmission of COVID-19?
Masks should be used as part of a comprehensive strategy of measures to suppress transmission and save lives; the use of a mask alone is not sufficient to provide an adequate level of protection against COVID-19.
If COVID-19 is spreading in your community, stay safe by taking some simple precautions, such as physical distancing, wearing a mask, keeping rooms well ventilated, avoiding crowds, cleaning your hands, and coughing into a bent elbow or tissue. Check local advice where you live and work. Do it all!
Make wearing a mask a normal part of being around other people. The appropriate use, storage and cleaning or disposal of masks are essential to make them as effective as possible.
 KF94 MASK-Protective Face Mask chennai : best price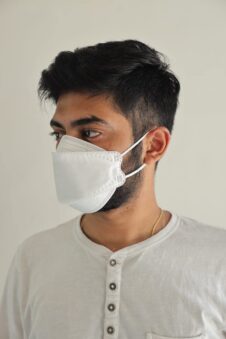 Product link: https://www.youtube.com/watch?v=gqi08wEQBPk