RECLINING ELECTRIC WHEELCHAIR- Model: EW-BC -India best price NO1
RECLINING ELECTRIC WHEELCHAIR Chennai/Banglore/kochi
Elite series light  weight wheelchair comes with reclining type adjustable.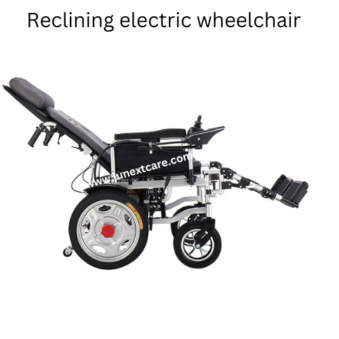 Product demo video link: https://youtu.be/xw81q72E3N
Warranty details:
1 year Service Warranty on Controller & Motor.
6 Months Warranty on Battery (Accidental damage not covered under warranty).
Country of Origin: (China)
Electric wheelchairs, we offer are adaptable to the severity of any disability, with a simple-to-use joystick for comfortable control movement.
An electric wheelchair, also known as a power wheelchair, is a wheelchair with a rechargeable battery and a motor to power the wheels. Rather than having to manually turn the wheels yourself or have someone push you, you can move around easily without as much effort
Electric wheelchairs can be used indoors or outdoors, providing constant support for people who need them throughout the day.
Powered chairs also offer a tight turning radius which means they are ideal for negotiating smaller spaces.
Many offer adjustments for height, tilt, recline and leg space too.
For users who may not have the upper body strength to push manual wheels, an electric wheelchair means they are not limited to taking short trips out.
Our powerchairs require only the lightest touch to be operated and can be easily adjusted to ensure the user is extremely comfortable for their duration in the seat.
Advantages of Reclining wheelchair: 
Reclining wheelchair are designed to allow the user to recline comfortably at incremental angle positions with ease.
Long-term seating can be painful without the right type of equipment, recliners allow the user to experience a comfort level
Detachable side arm rest easy to transfer patient to bed
 The elevating and swing away footrests allow Users to adjust to the most comfortable position according to their individual requirements.
Elevating footrests & can be adjusted according to comfort
Foldable frame with anti tippers
The framework is sturdy, which gives more strength
Increased independence
Electric and manual wheelchairs both allow the user to get around and undertake daily activities without assistance. An electric wheelchair, in particular, provides increased independence due to it's ease-of-use and the ability to travel without experiencing fatigue.
Marketed & serviced by:
LUNEXT HEALTH CARE, Chennai
Call: 7200705006
Email: sale@lunextcare.com
locate us: https://g.page/LUNEXT?share
Follow us on our FB page: https://www.facebook.com/lunexthealth
Refer: https://www.mobilityhq.com.au/our-blog/benefits-of-a-manual-and-electric-wheelchair/
Product Description
RECLINING ELECTRIC WHEELCHAIR Chennai/Banglore/kochi
ELITE SERIES:
Model NO: EW-BC- Sleek design – Lightweight

Reclining electric wheelchair with front alloy wheels 10″ & rear steel wheel 16″ inflammable tyre.
Max load: 130kgs, , 285LBS
Battery system: Detachable battery-Rechargeable battery (24v/20AH)
Max speed: 6KM/H
Max climbing angle: 13 degrees
Turn radius: 1.3M
Warranty: 1 year & Extended AMC service facility available..
Shipping lead time: within 2 days
Country of origin: CHINA
PAN INDIA SHIPPING