Folding Electric wheelchair-Light weight Best price No1- Model: EW-LBC
Folding Electric wheelchair india at best price chennai/Banglore/kochi
PRO series wheelchair comes with Lithium battery
Warranty details:
1 year Service Warranty on Controller & Motor.
6 Months Warranty on Battery (Accidental damage not covered under warranty).
Benefits Of An Electric Wheelchair
A Electric wheelchair, powerchair, Motorized wheelchair or electric-powered wheelchair is a wheelchair that is propelled by an electric motor through battery.
We recommend electric wheelchairs for all individual whos are facing obstacle in day to day activity because of disability.. Electric wheelchair Just gives you additional freedom to move without others intervention & mange your activity by yourself..  Moreover, they may also be used not just by people with 'traditional' mobility impairments, but also by people with cardiovascular and those who suffer from fatigue.
Freedom to move: Electric wheelchairs allow users to experience the freedom to move certain distances independently with assistance.
Because motor electric wheelchair is driven using a joystick, it allows for the chair to move forward, backward, left and right
Suitable For Everyone
Adaptable for most disabilities with a simple-to-use joystick for comfortable control movement. Besides, for users who may not have the upper body strength to push manual wheels, an electric wheelchair means they are not limited to taking short trips out
Marketed & serviced by:
LUNEXT HEALTH CARE, Chennai
Call: 7200705006
Email: sale@lunextcare.com
locate us: https://g.page/LUNEXT?share
Follow us on our FB page: https://www.facebook.com/lunexthealth
Product Description
Folding Electric wheelchair – best price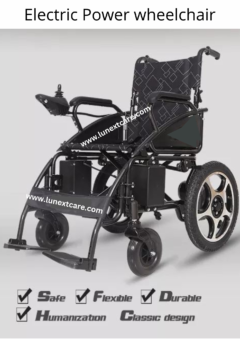 Model NO: EW-LBC

Folding Electric wheelchair Motorized wheelchair with Steel Frame & Sleek attractive design
Material

net weight (With battery)

Lithium battery 

24V 12A *1 pcs

Motor

Brake system
Max load: 100kgs,
Battery system: Detachable battery-Rechargeable battery (24v/12AH)
Braking system: Manual
Max speed: 6KM/H
Max climbing angle: 25 degrees
Turn radius: 1.3M
Warranty: 1 year & Extended AMC service facility available..
Shipping lead time: within 2 days
PAN INDIA SHIPPING
Product demo video link: https://youtu.be/kAO0OVtqXl8