TRAVEL ALUMINIUM FOLDABLE WHEELCHAIR Chennai/Banglore/Kochi model: TA-WC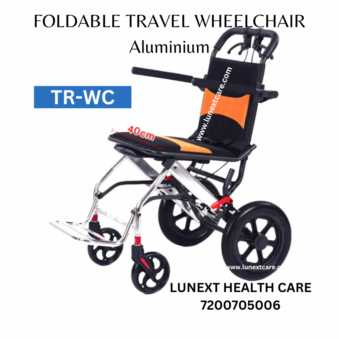 Elegant and trendy design comes with premium features.
It has an aluminium sturdy frame double cross bar foldable structure and bigger 12″ rear wheels.
The premium folding wheelchair comes up with folding pedals & arm rest can be lifted
The front wheel can rotate freely 360 degree and easy to move
Pull rod type towing design like suitecase, portable and labour saving..
TRAVEL ALUMINIUM FOLDABLE WHEELCHAIR key features
01. Wheelchair with intelligent controller 360 degree controls sensitivity, comfort and convenience for user
02. Foldable foot bracket, convenient and flexible easy to adjust
03. highly breathable imported cushion and backrest, anti-bedsore, easy to clean, replaceable
04. ergonomic handles, non-slip design, safer to use
05. liftable armrest, can multi-angle open and lift
06. 12″ rubber rear wheels, more stable
07. manual brake, can brake safely in emergency
08. Rear anti-tilt wheel, effectively to prevent the wheelchair to turn back
Product demo video link: https://youtu.be/tKvnijbNE3o
Marketed & serviced by:
LUNEXT HEALTH CARE, Chennai
Call: 7200705006
Email: sale@lunextcare.com
locate us: https://g.page/LUNEXT?share
Follow us on our FB page: https://www.facebook.com/lunexthealth