WE2LVLY ANION SANITARY NAPKINS-Pack of 14no Best price
WE2LVLY ANION SANITARY NAPKINS- Pack of 14no:
Material Details:
Cotton soft top layer,  fluff pulp, Sumitomo SAP, Breathable PE film back sheet,  release paper, individual wrap, colorful packing box, with fragrance, winged
Function:
Normal; anion, negative ion, herbal also available
WE2LVLY SANITARY NAPKIN LAYERS
(1) Ultra thin
(2) 100% cotton top sheet, natural and soft touch to women skin,
(3) Japanese SAP makes the pad super absorbent and locks menstruation flow in ONE second, 2-3 times more absorption than normal
pads' in the market.
(4) Great breathability of back sheet effectively helps prevent moisture and odor.
(5) Perfect body fit design and strong adhesive keep the pad firmly stay on the panty all the time.
Product video: https://youtu.be/OYT-rFkJJSM
Free Shipping PAN INDIA.. Call/whatsapp: 7200705006
Email: sale@lunextcare.com
locate us: https://g.page/LUNEXT?share
Follow us on our FB page: https://www.facebook.com/lunexthealth
Product Description
WE2LVLY ANION SANITARY NAPKINS- Pack of 14 no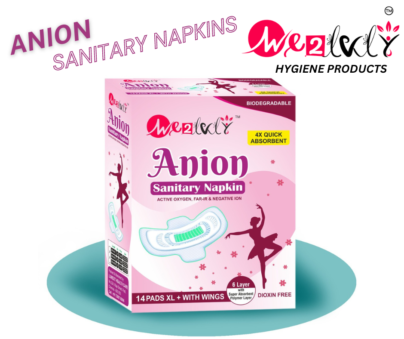 Product details:
1st layer: Perforated 100 % Organic Cotton Soft fabric top layer (better absorbency which give ultra comfort. )
2nd layer: Woven cloth anion chip (which contains 6100 anion per cubic cm. It works naturally to relieve menstrual discomforts Absorption layer)
3rd layer: Air-laid paper (360 degree tightly wrapped, not easy causes napkins deformities. )
4th layer: Super absorbent polymer (effectively blocks the water more than ten times, keep dry)
5th layer: Professional diversion layer(can accelerate the liquid to proliferate rapidly, is helpful to flicker attracts, prevents
the side to leak)
6th layer: Air-laid paper(enhance freshness, provides maximum absorbency per sanitary pad)
Backsheet and Packing film
PE breathable leak-proof bottom layer(allows the air to be absorbed in for ventilation)
Adhesive glue release paper(specially designed back adhesive which conforms to human ergonomics)
ANION SANITARY NAPKINS: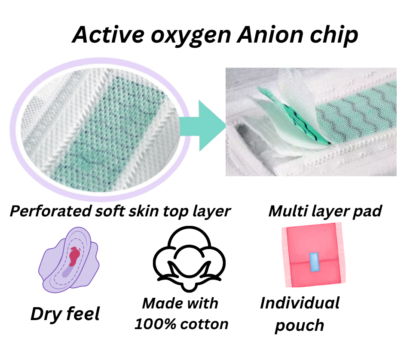 ANION SANITARY Napkin is embedded with an anion chip that brings host of benefits, most notably of which are prevents bacteria during menstruation, reduces feminine discomfort and eliminates unwanted odors.
Balances Irregular Cycle, Boosts energy, Strengthens Immunity, Increases Metabolism & Improves Blood Circulation. Also acts as Anti-Depressant, Removes Stress & Helps You Sleep Better.
Upon getting in contact with moisture, the Anion chip in pads releases negative ions that lets you experience the benefits.