ALUMINIUM FOLDABLE WHEELCHAIR Chennai/Banglore/Kochi model: AQR-WC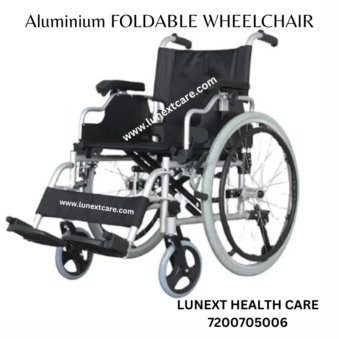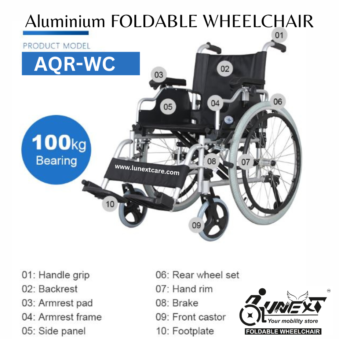 ALUMINIUM FOLDABLE WHEELCHAIR Elegant and trendy design comes with premium features. It has an aluminium sturdy frame double cross bar foldable structure and bigger 24″ rear wheels.
The premium folding wheelchair comes up with flip up type desk jet PU armrest for easy transfer of the user from the bed.
The rear wheels are easily detachable with a quick release button for easy making it more compact. Additional features like height adjustable armrest and anti-tipping mechanism to prevent the chair from tipping over backwards.
Product demo video link: https://youtu.be/BzryAzmlFLo
Country of Origin: (China)
Marketed & serviced by:
LUNEXT HEALTH CARE, Chennai
Call: 7200705006
Email: sale@lunextcare.com
locate us: https://g.page/LUNEXT?share
Follow us on our FB page: https://www.facebook.com/lunexthealth