Car Travel wheelchair chennai – Foldable sleek design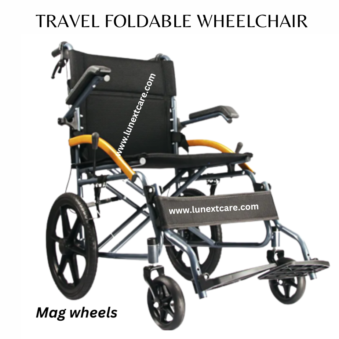 1. Car Travel wheelchaair foldable -Powder coated finish
2. Frame: High-quality steel, with liftable handrail and rotatable foot support, reliable locking device and good safety performance;
3. Front wheel: 6-inch solid front wheel with integrated stamping metal crank arm, high strength and no deformation.
4. Rear wheel: 20 inch solid tire with 36 spokes in aluminum alloy profile; Equipped with high-strength double wave hand wheel rim and anti-skid design.
5. Braking: steel elbow type braking device is adopted. After braking, the braking device is lower than the seat surface to facilitate users to get on and off; The rear handle is equipped with hand linked brake with brake function.
6. Seat cushion: it adopts high-quality mesh cushion, which is breathable and comfortable, and the seam edge is firm and neat; Handrail: high quality plastic handrail.
7. Pedal: equipped with high-strength plastic pedal with adjustable height.
8. Safety belt: the seat is equipped with thickened snap buckle safety belt.
9. It is equipped with leg protection belt to prevent the leg from moving backward and make it safer.
10. Specification: folding width 27cm, seat depth 42cm, seat width 42cm, seat height 45cm from the ground; Wheelchair size (CM): 94 * 62 * 88.
11. Bearing capacity: 100kg.
Product video: https://youtu.be/wSuffUx4uQg
Marketed & serviced by:
LUNEXT HEALTH CARE, Chennai
Call: 7200705006
Email: sale@lunextcare.com
locate us: https://g.page/LUNEXT?share
Follow us on our FB page: https://www.facebook.com/lunexthealth