FOLDABLE MANUAL WHEELCHAIR chennai-model: MW-BC Best price NO1
FOLDABLE WHEELCHAIR Chennai- sleek design with detachable legrest
Model: MW-BC
FOLDABLE MANUAL WHEELCHAIR features:
Lightweight and Foldable Design: FOLDABLE MANUAL WHEELCHAIR are designed to be lightweight and easily foldable for convenience and easy transportation.
Foldable makes them perfect for individuals who require a wheelchair for occasional use and need to transport it frequently.
Armrests: Most foldable wheelchairs come with armrests to provide support and comfort to the user while sitting.
Rear Wheels: Travel wheelchairs have larger rear wheels to provide better performance on uneven surfaces and terrains. The larger wheels also provide better stability and easier maneuverability.
Loop-Style Manual Brake: Travel wheelchairs usually feature a loop-style manual brake that can be easily operated by the user. The brakes provide better control and safety during transfers and other activities.
Footrests and Leg-rests: Travel wheelchairs have supportive footrests and detachable leg-rests that help users achieve a comfortable seating position.
The footplates are usually made of aluminum and can be adjusted to support the entire foot.
WHEELCHAIR comes with comfortable seat fabric suitable for long hours seating position comfort
Weight Capacity: Foldable wheelchairs are designed to be durable and can support up to 100 kg of weight.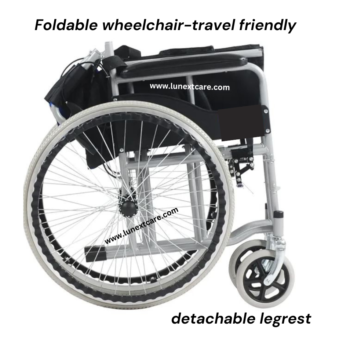 Locate us: https://g.page/LUNEXT?share 
Follow us in Facebook : https://www.facebook.com/lunexthealth
Product Description
FOLDABLE WHEELCHAIR Chennai/Banglore/Kochi model: MW-BC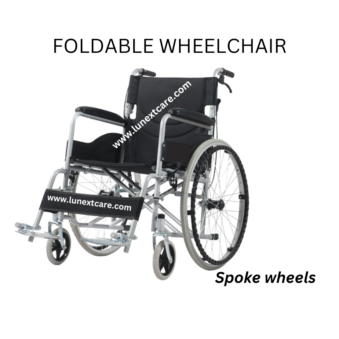 Material: Carbon steel with powder coated finish
Total weight of Wheel Chair (Kg):17KG (Approx)
Foot rest Material: Aluminium
Density of Cushion material on armrest, seat and Backrest (Kg/m3)-32
Leg Guard Width (mm)-190
Back rest with Cushion-Yes
Hardness of Axle (HRC)-30
Hand rim Tube thickness (mm)-15
Front castor Dia (mm)-165
Cushion on Seat With Overall Width in unfolded condition of wheel chair (mm)-660
Leg guard type-NA
Type of Back rest-Foldable
Overall Length (mm)-980
Type of Wheel Hub-bearing
Hand Rim Material-Plastic
Foldable-Yes
Overall Width in folded condition of the wheelchair (mm)-300
Types of Wheel Chairs-Powder coated
Material of Handle-PVC
Rear wheels: Standard Spoke wheels
Product video: https://youtube.com/shorts/621s998V0sM
Marketed & serviced by:
LUNEXT HEALTH CARE, Chennai
Call: 7200705006
Email: sale@lunextcare.com
locate us: https://g.page/LUNEXT?share
Follow us on our FB page: https://www.facebook.com/lunexthealth