FOLDING WHEELCHAIR Chennai-model: MW-PC- Best price NO1
FOLDING WHEELCHAIR Chennai/Banglore/Kochi
Model: MW-PC
Specification: BLACK POWER COATED
 Total weight of Wheel Chair (Kg):17KG (Approx)
Foot rest Material: Plastic
Density of Cushion material on armrest, seat and Backrest (Kg/m3)-32
Leg Guard Width (mm)-190
Back rest with Cushion-Yes
Hardness of Axle (HRC)-30
Hand rim Tube thickness (mm)-15
Front castor Dia (mm)-165
Cushion on Seat With Overall Width in unfolded condition of wheel chair (mm)-660
Leg guard type-NA
Type of Back rest-Foldable
Overall Length (mm)-980
Type of Wheel Hub-bearing
Hand Rim Material-Plastic
Foldable-Yes
Overall Width in folded condition of the wheelchair (mm)-300
Types of Wheel Chairs-Powder coated
Material of Handle-PVC
Mag wheels are made of synthetic materials and usually have less spokes and non rustic..
Mag wheels are usually fixed mounted on the chair with screwed axles & easy maintenance..
Folding wheelchair  benefits:
Lightweight and Foldable Design: Foldable wheelchairs are designed to be lightweight and easily foldable for convenience and easy transportation. This makes them perfect for individuals who require a wheelchair for occasional use and need to transport it frequently.
Armrests: Most foldable wheelchairs come with armrests to provide support and comfort to the user while sitting.
Rear Wheels: Foldable wheelchairs have larger rear wheels to provide better performance on uneven surfaces and terrains. The larger wheels also provide better stability and easier maneuverability.
Loop-Style Manual Brake: Foldable wheelchairs usually feature a loop-style manual brake that can be easily operated by the user. The brakes provide better control and safety during transfers and other activities.
Footrests and Leg-rests: Foldable wheelchairs have supportive footrests and leg-rests that help users achieve a comfortable seating position. The footplates are usually made of PVC plastic and can be adjusted to support the entire foot.
Locate us: https://g.page/LUNEXT?share 
Follow us in Facebook : https://www.facebook.com/lunexthealth
Product Description
FOLDING WHEELCHAIR Chennai/Banglore/Kochi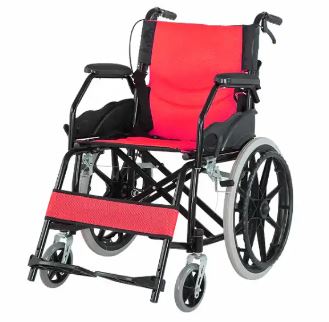 Product demo video link: https://youtu.be/ZQFxRCm4fMQ
Country of Origin: (China)
Marketed & serviced by:
LUNEXT HEALTH CARE, Chennai
Call: 7200705006
Email: sale@lunextcare.com
locate us: https://g.page/LUNEXT?share
Follow us on our FB page: https://www.facebook.com/lunexthealth