DWEEJ N95 MASK-Protective Face Mask chennai : best price
1st layer – MEDICAL GRADE SPUN BOND 25 GSM
2nd layer – MEDICAL GRADE SPUN BOND 25 GSM
3rd layer – MEDICAL GRADE SMS FABRIC 25 GSM
4th layer – MELT-BLOWN FABRIC 25 GSM
5th layer – MEDICAL GRADE SPUN BOND 25 GSM
Product link: https://youtu.be/ys8mT0qmO40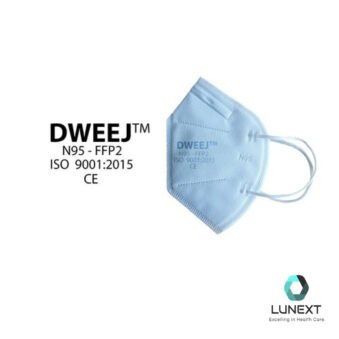 Approvals:
ISO 9001:2015 & CE Certified Approvals
SITRA & ACCUPREC Certified Approvals
Quality is equivalent to EN 14683, ASTMF2100
Approximate Weight Of Products – 5.90gm
– Adjustable Nose Clip
– Ulrasonically Welded earloops Laycra Based Earloop
| | |
| --- | --- |
| Material Composition | Meltblown and Non-Woven |
| Care Instructions | Washable |
| Size | Free Size |
| Brand | Dweej |
| Material | Nonwoven Fabric |
Protective mask
Whether you need it for surgical reasons or to filter out dust, germs, smoke & pollen, DWEEJ masks are the perfect solution. Face masks should be worn to help prevent cross-contamination.
PM2.5 size particle filtration efficiency

Protects against dust particles, smoke, haze, pollen and bacteria
Comfort
Easy and comfortable breathing

Easy fit nose clip

Protects from Bacterio Polen & Dust Particles

Adjustable Blastic ear loop
About this Product
Allergen Free

Single piece Hygienic Sealed packing

Strong and flexible ear loops for long life

PM2.5 Particle filtration
Free Shipping PAN INDIA.. Call/whatsapp: 7200705006
Email: sale@lunextcare.com
locate us: https://g.page/LUNEXT?share
Social media link: https://www.facebook.com/lunexthealth
Masks can prevent the transmission of COVID-19?
Masks should be used as part of a comprehensive strategy of measures to suppress transmission and save lives; the use of a mask alone is not sufficient to provide an adequate level of protection against COVID-19.
If COVID-19 is spreading in your community, stay safe by taking some simple precautions, such as physical distancing, wearing a mask, keeping rooms well ventilated, avoiding crowds, cleaning your hands, and coughing into a bent elbow or tissue. Check local advice where you live and work. Do it all!
Make wearing a mask a normal part of being around other people. The appropriate use, storage and cleaning or disposal of masks are essential to make them as effective as possible.