Syrebo Rehabilitation hand Gloves chennai C12- Stroke Hand Finger- Latest With 6 Training Modes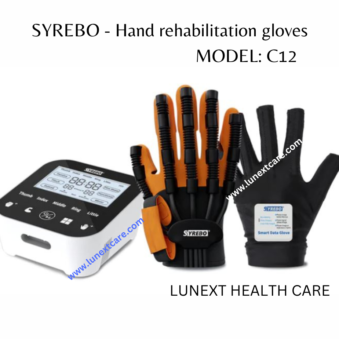 Feasible application of rehabilitation theory: SYREBO Hand Rehabilitation Glove combines with flexible robot technology and neuroscience, integrates active training and passive training ,covers all stages of hand rehabilitation for stroke patients.
More hand rehabilitation training modes: C12 Syrebo robotic gloves have 6 training modes:passive training,finger mirror training,pinch training,extend training,fine motor training,functional training,cover all stages of hand rehabilitation for stroke patients.
Stronger power robotic glove for stroke patients: SYREBO hand rehabilitation robot gloves have three pumps driving power,help stroke patients with stronger power to drive flexion and extension, and there are 9 gears to adjust the strength.
Advanced finger mirror training: Syrebo hand rehabilitation glove innovates the design of the glove, increases the number of air pumps and the sensitivity of the sensor, can individually control the mirror training of single finger, controls finger movement more finely, and better helps stroke patients recover fine hand functions.C12 robotic glove also has wireless data glove,more convenient to use.
Unique static stretching:Syrebo hand rehabilitation gloves has advanced safe static stretching mode to decrease muscle tone and increase range of hand finger motion,imitates the stretching training of the rehabilitation therapist,can help stroke patients finger function recovery better.
6 Training Modes
Newly Upgraded Model
Passive Training
Pinching Training
Extend Training
Fine Motor Training
Functional Training
Mirror Training
Strong Power
Adjustable Intensity
Wireless Data glove
Result Oriented
Hand Rehabilitation
Single Finger Movement
Personal Home use
SIYI Intelligence
Soft Robotics
Exoskeleton Technology
Stroke Survivors
With Hand Dysfunction
In The Box
1 Pc Syrebo Soft Robotics Hand Rehabilitation Device C12 Model, 1 pc Rehabilitation Glove Size, 1 pc Respective Data Glove Wireless, 1 Pc Adaptor
Product video: https://youtu.be/oJ0keDKIuSU
Do you have the following Pain Points? It's time to have robotic glove for stroke patients!
Unable to eat/ dress himself independently
Unable to do rehabilitation training alone
Have no professional device when do rehabilitation training at home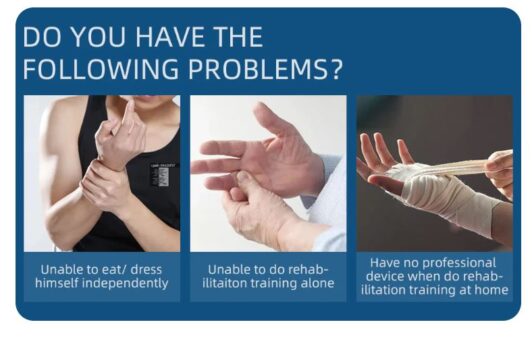 When will you should choose hand rehabilitation robot gloves?
Unable to eat or dress yourself,you can use the rehabilitation robot gloves.
Unable to do rehabilitation training alone, our hand exercisers for therapy can help you like a professional audience.
There are no professional Physical Therapy Hand Exercisers at home.
Latest SYREBO Hand Rehabilitation Robot Glove-SYHRC12
Syrebo Rehabilitation hand Gloves- SYREBO Hand Stroke Glove is Your Best Companion!
Syrebo robotic glove for stroke patients is suitable for the patients with hand dysfunction such as stroke,hemiplegia after cerebral infarction,peripheral nerve injury of hand,orthopedic surgery,spinal cord injury,hand burn,children cerebral palsy,etc.
It combines with flexible robot technology and neuroscience, syrebo stroke glove can help patients master fingers flexion and extension, reduce hand muscle tension, relieve edema and stiffness, promote rehabilitation of brain nerve injury through exercise, improve hand activity and accelerate the rehabilitation of hand function.
The latest hand function rehabilitation theory:
Bilateral synergy theory motor Relearning programme theory (MRP), Motor imagery Theory closed loop rehabilitation theory of "Central-pheriparal-central"