Hand Rehabilitation gloves chennai- Syrebo Soft Robotics Best price no1
Hand Rehabilitation gloves chennai- Syrebo Soft Robotics
Model : C10
Brand : Syrebo
Type : Hand Rehabilitation gloves C10 with Left Hand Rehabilitation
Glove Size : Small / Medium
Single Glove : Left Hand / Right Hand
Charge Voltage : 5 V
Charge Current : 3A
Warranty Details : Offsite Warranty ,1 Year Warranty for Host Device and 6 month for Rehabilitation Gloves
Accessories/Packager Contains :
1 pc C10 Host Device ,
1 pc Power Assisted ( Rehabilitation ) Glove Left Hand Small Size
,1 pc Data Glove ,
1 pc Rehab Ball ,
1 pc Hand pillow ,
1 pc Adapter ,
1 pc Manual
Marketed & serviced by:
LUNEXT HEALTH CARE, Chennai
Call: 7200705006
Email: sale@lunextcare.com
locate us: https://g.page/LUNEXT?share
Follow us on our FB page: https://www.facebook.com/lunexthealth
Product Description
Hand Rehabilitation gloves – Syrebo Soft Robotics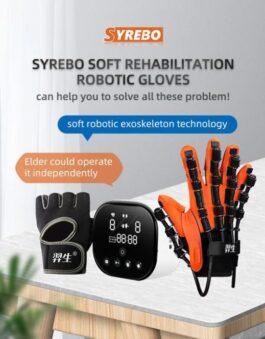 Hand Rehabilitation gloves C10 Model with Left Hand Rehabilitation Glove ,Size Small Hand Syrebo rehabilitation robot gloves use bionic pneumatic artificial muscles to drive finger joints in order to improve the symptoms such as finger spasm, paralysis.
While effectively helping the rehabilitation of various functions of the hand, the gloves also acts on assisting the brain nerves, promoting the improvement of sports rehabilitation, etc. Who can use Syrebo hand rehabilitation robot? Suitable for people with hand disabilities caused by central and peripheral nerve injury, central diseases, stroke, high paraplegia, brain trauma. Also can be used for hand post-surgery functional rehabilitation training.
1) Passive Flexion and Extension : The Rehabilitation Glove will drive the affected Hand to grasp the small ball/Water Cup and Other objects .Patient Could intelligently adjust the time of flexion and extension .
2 ) Innovative Mirror Trainings : With the Help of Syrebo Rehabilitation Glove C10 model ,the Healthy Hand Drives the affected hand to move synchronously ,Activates the mirror neurons ,promotes the Autonomic recovery of the brain and speeds up the Rehabilitation process of Hand Function .
3) ADLs Training : The method based on motor control Theory emphasizes the specificity of sports training and reshape the self-care ability through repeated life scene training .
Why choose Syrebo™ hand rehabilitation robot ? 1) Intelligent touch button?adjustable flexion and extension
2) Portable, small size,big energy, easy to operate.Patients can operate it independently with only one button.
3) Combined with flexible robot technology and neuroscience, it can help patients relieve hand spasm and stiffness, and promote patients' motor relearning.