RECLINING WHEELCHAIR India-with commode & foodtray- Best price no1-Model: RW-BC- Manual
RECLINING WHEELCHAIR INDIA with commode & foodtray : Chennai/Banglore/kochi
Model NO: RW-CFT- Sleek design – Lightweight
PRO series light weight wheelchair comes with reclining type adjustable.
RECLINING WHEELCHAIR with commode & food tray
Overall size: 100cm x 28 cm x 98cm
Folding width: 27cm
seat width: 45cm
seat height from ground: 50cm, Head rest height: 71cm
Package size: 93 x26x97cm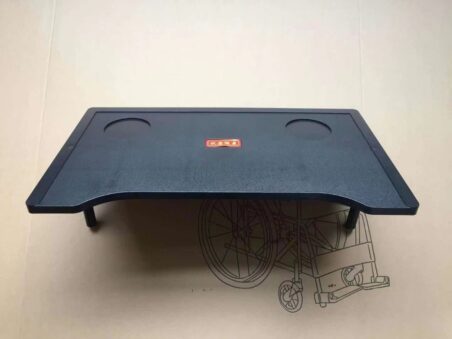 Capacity: 110kg
Product demo video link: https://youtu.be/xw81q72E3N
Warranty details:
6 Months Warranty- rough handling damage will not be covered.
Country of Origin: (China)
Advantages of Reclining wheelchair: 
Reclining wheelchair are designed to allow the user to recline comfortably
Long-term seating can be painful without the right type of equipment, recliners allow the user to experience a comfort level
Detachable side arm rest easy to transfer patient to bed
 The elevating footrests allow Users to adjust to the most comfortable position according to their individual requirements.
Foldable frame with anti tippers
The framework is sturdy, which gives more strength
Marketed & serviced by:
LUNEXT HEALTH CARE, Chennai
Call: 7200705006
Email: sale@lunextcare.com
Who should use reclining wheelchair:
They are designed for elderly who need additional support and/or have skin breakdown issues who will benefit from recline/tilt feature.
They are also beneficial for elderly that like to be out and about with others but become drowsy during the day. Being able to tilt and recline allows them to be more comfortable for short periods without having to lay down in bed.
They are also made to accommodate more specialized seating and positioning accessories – more advanced cushions, backrests and head rests
More details on reclining wheelchair refer article https://www.caring-for-aging-parents.com/reclining-wheelchair.html
locate us: https://g.page/LUNEXT?share
Follow us on our FB page: https://www.facebook.com/lunexthealth
Product Description
RECLINING WHEELCHAIR India with commode & food tray
Model NO: RW-CFT- Sleek design – Lightweight
Premiere product : Available in Chennai/Banglore/kochi/Hyderabad
PRO SERIES: Recliner wheelchair with commode & foodtray- Side Arm detachable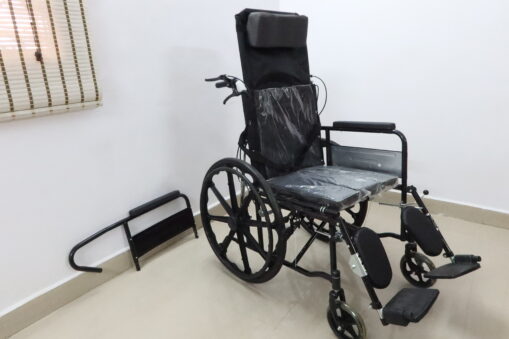 Reclining wheelchair (manual) with front alloy wheels 7″ & rear steel wheel 24″ inflammable tyre.
Max load: 110kgs
Paint: Black Powder coated
Hydraulic system: Reclining back Hydraulic piston control method with cluth control  
Reclining angle: 90 degree to 160 degree inclination
Foot rest adjust: 0 to 90 degree
Side arm rest detachable
Warranty: 6 Months
Shipping lead time: within 2 days
More details: https://youtu.be/zGV11EOqdNg
Country of origin: CHINA
PAN INDIA SHIPPING